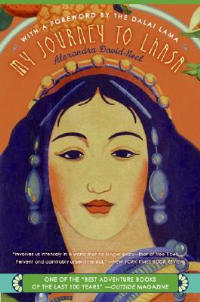 My Journey to Lhasa The Classic Story of the Only Western Woman Who Succeeded in Entering the Forbidden City di David Néel Alexandra
In breve: First published in 1927, "My Journey to Lhasa" tells of the first Western woman to enter the forbidden Tibetan city of Lhasa and to have been received by the Dalai Lama. Map.

leggi tutto

(more)


The Great ARC The Dramatic Tale of How India Was Mapped and Everest Was Named di Keay John
In breve: The Great Indian Arc of the Meridian, begun in 1800, was the longest maesurement of the earth's surface ever to have been attempted. Its 1,600 miles of inch-perfect survey took nearly fifty years. Hailed as "one of the most stupendous works in the history of science," it was also one of the most perilous. Snowy mountains and tropical jungles, floods and fevers, tigers and scorpions all took their toll on the band of surveyors as they crossed the Indian subcontinent carrying instruments weighing half a ton.
leggi tutto

(more)