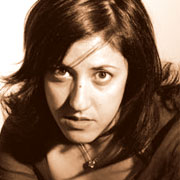 Azadeh Moaveni, di origini iraniane, vive negli Stati Uniti dove lavora come inviata per il "Los Angeles Times". Con Ebadi Shirin, premio Nobel per la pace 2003, ha scritto Il mio Iran.

Azadeh Moaveni is Tehran correspondent for TIME Magazine. She is the author of Lipstick Jihad (2005), and co-author of Iran Awakening (2006).
She previously worked for the Los Angeles Times as a reporter covering the Iraq war, and its regional reverberations. Before joining the Times, she reported around the Middle East for TIME, covering Islamic militant groups, Arab media, political Shiism, Arab/Iranian youth culture, and the Iranian reform movement. As one of the few American correspondents permitted to work continuously in Iran since 1999, Azadeh has reported extensively on youth culture and the student movement in the Islamic Republic. This focus inspired her first book, as well as her contributions to two anthologies, My Sister, Guard Your Veil; My Brother, Guard Your Eyes (2006), and Let Me Tell You Where I've Been (2006).

Her reporting has spanned from Lebanon, Syria, Jordan, Egypt, Iraq, Qatar, to Iran, and she speaks both Farsi and Arabic fluently.

Azadeh graduated with a bachelor's degree in politics from the University of California, Santa Cruz. She received a Fulbright Fellowship to Egypt, and studied Arabic at the American University in Cairo. Azadeh grew up in northern California, and has lived in New York City, Cairo, and Beirut. She lives in Tehran with her husband Arash Zeini, and their son Hourmazd.