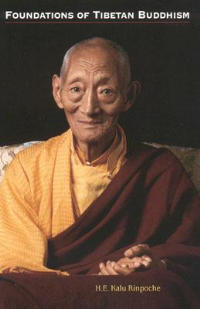 Foundations of Tibetan Buddhism (2 ed)

Foundations of Tibetan Buddhism presents the fundamental practices of this tradition in a clear and easily accessible manner. Beginning with an overview of the Buddhist path, Kalu Rinpoche goes on to explain the preliminary practices of taking refuge, prostrations, Dorje Sempa purification meditation, mandala practice, guru yoga and the guru-disciple relationship. He then discusses the vows of the lay person, the bodhisattva, and the tantric practitioner. The book closes with a wonderful explanation of meditation both with and without an object and the key points of mahamudra meditation.

The late Kalu Rinpoche was born in 1905 in eastern Tibet. At fifteen, he gave his first public teaching and soon afterward entered the traditional three-year, three-month retreat. From the age of eighteen, Rinpoche studied with several eminent teachers in Tibet and then began a period of mountain retreat.

Rinpoche spent many years teaching and directing retreats in Tibet. By 1955, he had revitalized the Shangpa Kagyu lineage and was senior lama of the Karma Kagyu lineage when the sixteenth Gyalwa Karmapa sent him to India and Bhutan to prepare for the anticipated exodus of refugees from Chinese-occupied Tibet.

In 1971, H.E. Kalu Rinpoche was sent on a teaching journey to the West by His Holiness the Karmapa. During his many subsequent visits, he founded numerous dharma and retreat centers for serious study in the Kagyu tradition in France, Sweden, Canada and the United States before his passing in 1989.