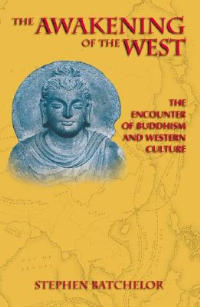 Il risveglio dell'Occidente

Per capire il Buddhismo occorre praticarlo, ma lasciatemi dire che conoscere come il Buddhismo si sia diffuso in occidente è lettura utile per chi vuol capire quali dinamiche (ma anche antipatie, gelosie ecc) siano alla base di questa diffusione. Forse sarebbe il caso di capire che anche le chiese buddhiste non sono esenti dai drammi che hanno distinto le chiese cristiane.

Oggi ci sembra incredibile che gli europei abbiano avuto una visione così inesatta e distorta del Buddhismo fino a metà del 900, eppure, per tutto un insieme di cause (indifferenza, cecità, ambizione politica) l'insegnamento del Buddha è sempre stato considerato alla stregua di un paganesimo idolatra. In questa storia della penetrazione del Buddhismo in Occidente, Batchelor documenta tutte le varie fasi dell'incontro della cultura europea con il pensiero Orientale, dai primi viaggi dei greci in India alla predicazione gesuita in Cina, dai filosofi romantici tedeschi alla diffusione delle scuole buddhiste in tutto il mondo Occidentale.
Unlike Rick Fields, whose How the Swans Came to the Lake (Shambhala, 1992. 3d ed.) focuses on American Buddhism, ex-Buddhist monk Batchelor (The Faith To Doubt, LJ 2/1/90) examines a broader canvas, surveying 2000 years of Western history. He finds but a handful of Europeans who were directly impressed by Buddhism; only during the last 150 years did any tangible "awakening" occur. While erudite, Batchelor's coverage is diffuse and uneven. Thus, while his chapter on Russian Buddhism is a captivating study of Kalmucks, reincarnated lamas, Stalinist purges, and perestroikan revival, his dismissal of theosophist Elena Blavatsky and painter Nicholas Roerich as "romantic fantasizers" is questionable. Urging Western modifications of Buddhist practice, Batchelor downplays the guru factor that produced an unbroken lineage from Gautama Buddha. Recommended for large collections only.