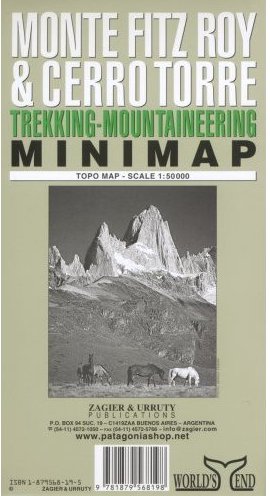 Monte Fitz Roy & Cerro Torre Minimap

Product Description
95 x 65 cm - 1:50000 - All in one side - 100 gram

MONTE FITZ ROY, CERRO TORRE & LAGO DEL DESIERTO TREKKING MAP
Trekking and mountaineering map based on aerophotography. Relief, contours forms, glaciers, woods, camping and trails. Geological chart and landsat image. Includes Lago del Desierto and Route 23 that reaches the zone. Also new trails and shelters. Landscape view of the peaks with their name and height.

Actualizacion del mapa de la zona de Fitz Roy y Cerro Torre, con el agregado de la zona de Lago del Desierto en escala ampliada. Incluye la traza completa y detallada de la nueva Ruta 23 y los refugios y caminatas que parten del lago anteriormente en litigio. Imagen satelital y carta geologica. Vista panoramica de todos los picos con nombre y altura.