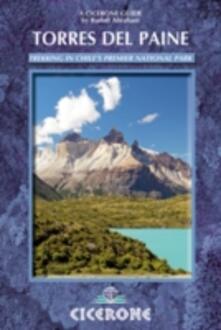 Torres Del Paine

This guidebook features trekking and walking routes in Chile's Torres del Paine National Park and Argentina's Los Glaciares National Park, areas of Patagonia. The 140km Torres del Paine 'O' Circuit in the far southern Andes is a long-distance trek of staggering beauty, as it circuits the Paine massif. This route typically takes 10-12 days to complete, and is suitable for competent trekkers.
Although the Peine region is a remote wilderness, walking is easily accessible with clear trails, good public transport and regular mountain huts and campsites. Also included in this guidebook are two other multi-stage trekking routes in the Torres del Paine National Park; the 4-5 day, half-circuit of the massif, called the 'W', and the 2-3 day Mirador Zapata route. Other walks in this guide are shorter, and can be completed in a few hours of walking, and ideas for further excursions are included.
Across the border in Argentina, this guidebook explores the 3-4 day Cerro Fitzroy and Cerro Torre multi-stage trek, as it visits the spectacular icefalls and views of incredible rock towers. The guide also includes an excursion to see the breathtaking, non-retreating Perito Moreno glacier, an UNESCO World Heritage site in itself. The guidebook helps trekkers venture into Patagonia with confidence, and includes advice on getting to and around the regions, languages, visa, currency, accommodation facilities in the National Parks as well as useful guidance on what to take and expect on the treks. Full background information on the geology, history, wildlife, flora and cultures of the regions are also explored, resulting in an excellent companion guide to walking and trekking in Torres del Paine and Los Glaciares.