Buddhist Sculpture in Clay Early Western Himalayan Art, Late 10th to Early 13th Centuries di Luczanits Christian
In breve: Large-scale clay sculptures representing the main deities are characteristics of the earliest Tibetan Buddhist monuments and particularly of the monasteries and village-temples built - from the end of the 10th to the early 13th centuries in West Tibet and Ladakh.
leggi tutto

(more)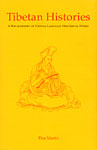 Tibetan Histories A Bibliography of Tibetan-Language Historical Works di Martin Dan
In breve: This bibliography, over ten years in the making and numbering over seven hundred items, attempts to provide for the first time a comprehensive listing in chronological sequence of Tibetan-language works belonging to the typical historical genres that have evolved between the 11th century and the present. Included are not only the dates and details of composition or publication, authorship and title, but also references to the burgeoning secondary literature in other languages.
leggi tutto

(more)