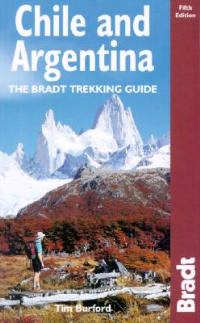 Chile and Argentina:

n this fifth edition of Chile and Argentina, Tim Burford rewalks the established path, as well as uncovering new territory, inspiring both experienced hikers and prospective wanderers. Focusing on over 35 areas, with details of the region's flora and fauna, this is the guide to carry in your backpack. Tim covers 45 hikes in total, from northwest Argentina to Tierra del Fuego, plus unique descriptions of mountain treks near Santiago and wildlife on the Valdés Peninsula.

Covers all the options for backpackers and hikers, from whale-watching off the Valdes Peninsula in Argentina to hikes around the Chilean Lake District with its backdrop of waterfalls, thermal pools, volcanoes and glaciers.