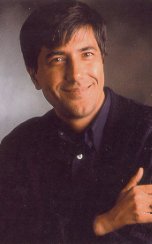 (aggiornata al 9 febbraio 2006)
Samrat Upadhyay is the first Nepali-born fiction writer writing in English to be published in the West. His first book, the short story collection ARRESTING GOD IN KATHMANDU (Houghton Mifflin, 2000; Houghton Mifflin Mariner Books paperback, 2001) has been translated into French and Greek and was the recipient of a Whiting Writers' Award, given annually by the Mrs. Giles Whiting Foundation to emerging poets and fiction writers who display "exceptional talent and promise." ARRESTING GOD IN KATHMANDU was also a selection in the Fall 2001 Barnes & Noble Great Writers Program. Upadhyay's stories have been read live on National Public Radio and published widely as well as in SCRIBNER'S BEST OF THE WRITING WORKSHOPS, edited by Sherman Alexie, and BEST AMERICAN SHORT STORIES 1999, edited by Amy Tan.

Upadhyay's second book, the novel THE GURU OF LOVE, was published in January 2003 by Houghton Mifflin and given starred reviews in both Publishers Weekly and The Library Journal and named a New York Times Notable Book of the Year 2003 and a finalist for the 2004 Kiriyama Prize, which is awarded in "recognition of outstanding books that promote greater understanding of and cooperation among the peoples and nations of the Pacific Rim and South Asia." THE GURU OF LOVE was released in paperback by Mariner Books/Houghton Mifflin in 2004. Upadhyay has also co-edited the anthology SECRET PLACES: NEW WRITING FROM NEPAL (University of Hawai'i Press), published in Winter 2001 as a special issue of Manoa magazine.