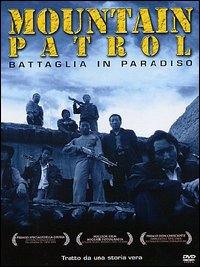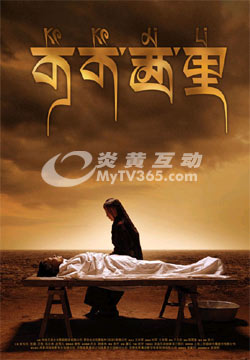 Mountain Patrol (DVD)

Sottotitoli in lingua italiana
Una "pattuglia di montagna" lotta per salvare le antilopi dai cacciatori di frodo
Dal The New York Times scritto da Manohla DARGIS Publicato il 14 Aprile, 2006

Le montagne che si ergono dall'altopiano del Tibet sono il teatro adatto per questa storia sugli scandalosi costi che la natura paga all'uomo. "Mountain Patrol: Kekexili" è basato su fatti tragicamente veri e racconta gli eroici sforzi di un piccolo gruppo di abitanti in lotta per salvare le antilopi tibetane "Chiru" dall'estinzione. Sebbene la caccia delle antilopi sia illegale dal 1970, poiché è necessario uccidere l'animale per tosare la sua lana chiamata shahtoosh, divenuta ricercata e preziosa, la specie cominciò a ridursi pericolosamente tra la fine degli anni 80 e gli inizi dei 90: anni in cui consumatori senza scrupoli si mostravano impunemente con le spalle coperte dal shahtoosh e le mani macchiate di sangue.

Se questi vi sembrano gli ingredienti per una ricetta lacrimevole e piena di compassione per delle tenere creaturine, dovrete ricredervi. Scritto e diretto da Lu Chuan, suo il già ben accolto "Missing Gun", "Mountain Patrol" ha un sapore agrodolce ispirato al territorio in cui è girato, ha il carattere da thriller al cardiopalma e un pizzico dei films di Sergio Leone. Per quanto il titolo del film suggerisca in sé un traffico e una specie in pericolo, (è infatti necessario uccidere dalle tre alle cinque antilopi per una sola pelliccia di shahtoosh), si scopre da subito che la storia ha molto più a che fare con la crudeltà dell'uomo verso l'uomo. Ecco perchè, vista la storia della violenta repressione cinese ai danni del Tibet, è impossibile non leggere nel film i vari livelli che lo compongono.

Testimoni di questo racconto da brivido sono gli occhi di un giornalista di Pechino, Ga Yu (Zhang Lei), che approda in questa regione fuori dal mondo nel 1996, armato della sua macchina fotografica e di grandi ideali. Il suo obiettivo è un gruppo di volontari di pattuglia su quelle montagne, guidati da un ex militare, Ri Tai (Duo Bujie), che segue le orme dei cacciatori di frodo dalle armi automatiche e accompagnati da scuoiatori mercenari, i quali lasciano sparse migliaia di carcasse di antilopi per tutto l'altopiano. Più dotato per l'azione che per le spiegazioni, il Sig.Lu non dice perché un giornalista cinese reputi questa storia uno scoop giornalistico. Ga Yu compare dal nulla, si infila a forza in questo contesto a lui estraneo (il suo essere in parte tibetano può essere un motivo) e pone un dilemma dalle implicazioni esistenziali: imparare a scuoiare un animale o saltare a cavallo per seguire la pattuglia?

Mr. Lu possiede un apprezzabile senso di economia narrativa, e non passa molto prima che il fotografo si trovi sulla strada con la pattuglia nello Kekexili, una regione a nordovest dell'altopiano. Pieno di panoramiche mozzafiato e scarso di dialoghi, questo è il tipico film che coinvolge con la sua bellezza per poi scioccare con improvvise scene di violenza. Le immagini di uomini sui loro camion così piccoli in confronto alle montagne che li circondano ricordano, sebbene di sfuggita, le immagini dei classici pionieri di altre montagne visti ne: "La carovana dei mormoni" di John Ford. Lu, laureato alla Beijing Film Academy, ha ovviamente visto la sua dose di western, ecco perché in altre scene ricorda Leone e, nel frangente in cui i due uomini rischiano l'asfissia e sputando sangue pur continuando ad inseguirsi fino a crollare, evoca persino Erich von Stroheim.

Nonostante gli sporadici riferimenti da scuola cinematografica, "Mountain Patrol" ha il suo punto di vista molto personale. I film sulle catastrofi ambientali tendono a sconfinare nelle prediche, elevando la pedagogia e il rimprovero al di sopra dell'arte. Questo film che provoca un tumulto di ragionevole rabbia e dolore (rimangono in vita soltanto 50.000 antilopi) è, soprattutto, un esercizio di immaginazione creativa. Carico di strane e orribili visioni, coinvolge non esclusivamente per il carattere dei personaggi, privati alla fine del proprio spessore psicologico, quanto grazie ad un racconto cesellato che conduce all'essenza della eterna lotta fra la vita e la morte. Di grande impatto la scena di un uomo che affoga nelle sabbie mobili, un memento alla fragilità della vita umana e allo spietato potere del mondo che cerchiamo, talvolta invano, di dominare a nostro rischio e pericolo.
________________________________________
________________________________________
Recensione in lingua italiana
Scritto (in Mandarino e Tibetano, con i sottotitoli in inglese) e diretto da Lu Chuan; directore della fotografia, Cao Yu; montaggio a cura di Teng Yun; musiche di Lao Zai; designers di produzione, Lu Dong e Han Chunlin; prodotto da Wang Zhongjun; distribuito da National Geographic World Films, Samuel Goldwyn Films e Columbia Pictures Film Production Asia

CON: Duo Bujie (Ri Tai), Zhang Lei (Ga Yu), Qi Liang (Liu Dong) and Zhao Xueying (Leng Xue).
________________________________________
Biografia
Vincitore nella categoria 'Miglior film' dei Golden Horse Award 2004 con Kekexili.

Cao Yu laureato al Department of Film Photography della Beijing Film Academy nel 1997, ora lavora con gli Beijing Film Studios. Prima di girare Kekexili, vinse il premio Young Artist Fund alla 54esimo Festival di Cannes nel 1997 grazie al lavoro presentato per la sua tesi di Laurea: "Waiting to Dodge". È stato il DP del film, "Flying like a Feather", che vinse il Comitato per i Premi Speciali al Festival Internazionale del Cinema di Locarno nel 2001. I suoi lavori nel campo pubblicitario comprendono: "A Crucial Moment" per la China Telecom; Cellulari Motorola C388 e C289; Cellulari Siemens Mini8088, che hanno vinto il premio per la miglio Fotografia al Festival Pubblicitario di New York; "Team China" per la Pepsi. "World Cup" per la Coca-Cola; "Children's Friend" per McDonald's; e "Xrisp" per i Gelati Nestle.
A 'Mountain Patrol' Struggles to Save Antelopes From Poachers (and Fashionistas)
The New York Times by MANOHLA DARGIS Published: April 14, 2006

The mountains that rise from the Tibetan plateau make a suitably dramatic backdrop for this story about the murderous cost we humans exact on the natural world. Based on depressingly true events, "Mountain Patrol: Kekexili" tracks the heroic efforts of a small group of Tibetans struggling to keep the Tibetan antelope, or chiru, from extinction. Although hunting the antelope was made illegal in the 1970's — you need to kill the animal to harvest its wool, which is turned into a rare commodity called shahtoosh — the population dwindled precariously, beginning in the late 1980's and early 90's, because enough wealthy consumers had no qualms about hitting the boldface scene with shahtoosh on their shoulders and blood on their hands.

If that sounds like a recipe for piety and sob stories about cute critters, think again. Written and directed by Lu Chuan, whose first feature was the well-received "Missing Gun," "Mountain Patrol" is as tough and unsparing as its backdrop, a blood-boiling environmental thriller with a dash of Sergio Leone. Although the traffic in endangered wildlife gives the film its headline hook — you need to kill three to five antelopes to make one shahtoosh shawl — the story that briskly unfolds has as much to do with man's inhumanity to man as to his fellow creatures. Which is why, given China's historic and violent aggression against the Tibetan people, it's hard not to read the film on several levels at once.

The way into this unlikely nail-biter is through a young Beijing photojournalist, Ga Yu (Zhang Lei), who lands in this otherworldly region in 1996, armed with a camera and a well of idealism. His quarry is a mountain patrol, led by a former soldier, Ri Tai (Duo Bujie), that tracks poachers who, with their automatic weapons and hired skinners, leave thousands of antelope carcasses across the plateau. More action-oriented than expository-minded, Mr. Lu never explains why a Chinese journalist would find this story especially newsworthy. Ga Yu simply shows up, slips into his new environs (it helps that he is part Tibetan) and proves himself a quick study, whether learning the proper way to cut meat — draw the knife toward your body, away from your companions — or hopping a ride with the patrol.

Mr. Lu has an appreciable sense of narrative economy, and it isn't long before the photographer is on the desolate road with the patrol in Kekexili, a region in the northwestern part of the plateau. Filled with astonishing vistas and a minimum of chatter, this is the kind of film that invites you in with beauty, only to surprise and even shock you with a sudden burst of violence. The images of the men driving their trucks and dwarfed against the mountains recall, however fleetingly, the sweeping sight of pioneers framed against a different range in John Ford's "Wagon Master." Mr. Lu, a graduate of the Beijing Film Academy, has clearly watched his share of westerns, which is why still other scenes evoke Leone and, when two men, gasping for oxygen and spitting blood, chase each other until they drop, even Erich von Stroheim.

Despite the sporadic film-school allusions, "Mountain Patrol" has its own very specific take on things. Films about environmental catastrophes tend to wax preachy, putting pedagogy and scolding above art. This one, for all its sorrow and the throb of righteous anger it provokes (only about 50,000 antelopes remain), is more than anything a work of creative imagination. Filled with strange and horrible visions, it draws you in again and again, not with characters, who all remain at a psychological remove, but with set pieces that distill the story's life-and-death struggle to its essence. The extraordinary scene of one man sinking into quicksand is characteristically potent, a reminder of the fragility of human life and the unblinking power of the world we dominate, to our peril.