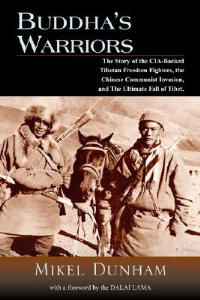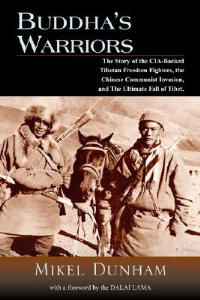 Buddha's Warriors

Buddha's Warriors is compulsive reading for anyone interested in the ancient conflict between the forces of light and dark. Much more than a re-telling of Tibetan resistance to Chinese invasion, above all its other credentials, and they are considerable indeed, it's a moving account of freedom challenging oppression through sacrifice, courage, determination and suffering. The valiant and tragic story of Tibetans taking up arms to defend their nation and culture may sit uneasily next the 'Shangri-la' image of popular western imagination yet the myth of Tibet as a non-violent and passive victim to communist China's brutal occupation demanded public exposure.

In giving prominence to the testimony of those Tibetans engaged in the struggle for independence Dunham has produced a scholarly work of integrity, passion and eloquence that recounts the origins, victories, failures and ultimate demise of Tibet's bloody war of resistance waged between 1950 and 1974. The author has clearly done his research and apart from interviewing former participants of the Tibetan Resistance has drawn upon an extensive range of credible sources to ensure factual accuracy and a wealth of historical detail. The subject has of course been touched upon previously but what distinguishes 'Buddha's Warriors' is the combination of personal accounts and the accessible style and wonderfully descriptive narrative provided by Mikel Denham. Reading this book one is struck by its cinematic-like scope while the landscape, characters, events and political background are brought to life with an honesty and freshness that make it irresistible. This is no dry or dust-covered history but a vibrant and poignant testament from those fought for Tibet's freedom. In their recollections we glimpse a remarkable adaptability, selfless devotion and humour shining brightly through the cold war canvas that forms the backdrop to events. There is a wonderful story of Tibetans prostrating before a man they assumed was Gyalo Dhondup, the Dalai Lama's brother, only to be informed he was in fact his tailor!

There are of course many darker tales of betrayal, torture, and endurance. The treacherous actions of Ngabo Jigme, who surrendered the town of Chamdo and switched allegiances to communist China, the devastating aerial bombardment of Lithang Monastery, the strategic brilliance and courage of Gombo Tashi whose warriors achieved breathtaking victories against overwhelming Chinese forces, and the grievous last stand by Wangdu and resistance fighters, pursued by the Chinese and Nepalese and effectively abandoned by the Tibetan government in the arid desolation of Mustang.

Apart from documenting the exploits of the Tibetan Resistance this book also provides a fascinating insight into those international political currents that eventually sealed Tibet's fate and lead to the invasion. The geopolitics of the Korean War, the anti-imperialist stance of a newly founded India and post-empire Britain conspired to deny Tibet diplomatic/military assistance or United Nation's recognition. In a shameful and perfidious act of abandonment Tibet was forsaken as a very exposed hostage to fortune. Not, thankfully entirely unaided. As Dunham's book reveals the threat of communism spreading across South-East Asia raised genuine concerns in Washington and the CIA took the decision to organise a covert military project inside Tibet.

We are then introduced to a world of smoke-and-mirrors, perilous missions, secret codes, nighttime parachute drops and suicide pills. A select band of Tibetans are clandestinely transported from the Himalayas to secret camps on the remote Pacific island of Saipan, and later Colorado, to undergo training in guerrilla warfare. It makes for fantastic reading; the urbane, clean-shaven graduates of the CIA academy, most of them seemingly quite young, tutors to the exotic and fierce looking Khampa warriors. From 1955/56 Tibet's freedom fighters were assisted, with varying degrees of success by the CIA, until the eventual collapse of organised resistance inside Tibet in 1962. Many were killed and tortured, survivors escaped and regrouped into Western Nepal to carry on the struggle with renewed American support until 1969 when aiding the Tibetans fell hostage to President Nixon's rapprochement with China.

The last remnants of Tibetan resistance were eradicated during the winter of 1974/75 in Mustang, as the King of Nepal under pressure from Beijing demanded the Tibetans surrender. Most did others resisted and were gunned down by Nepalese soldiers under a turquoise Himalayan sky. It was a sad and lonely ending and one cannot help but wonder if the outcome would have been the same had greater assistance been furnished at an earlier time or perhaps more significantly if the Tibetan Government had accepted US offers of military and economic support in 1951/56. The dream however of an independent Tibet has not been extinguished nor has the courage and sacrifice of Tibetans inside Tibet been vanquished. Anyone who has an interest in the cause of freedom should not miss this remarkable book.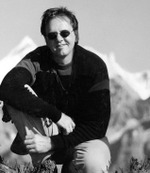 Mikel Dunham's writing career is preceded by his success as an artist. In the 1980s and early 1990s, his box-assemblages and three-dimensional photographic collages were widely exhibited, including one-man shows in Europe, New York, and other major cities in the U.S. In 1989, Mr. Dunham made the first of many treks in the Himalaya, thus marking a turning point in his career. He became the last student of the late thangka master, Pema Wangyal of Dolpo, spending years learning how to paint in the Tibetan manner with mineral pigments and 22 carat gold. This led to his commission to paint the murals for a newly constructed Tibetan temple in Sarnath, India-one of the eight major pilgrimage sites for Buddhists. His Holiness the Dalai Lama later consecrated the temple. In 2000, Dunham was given full access to Samye to document its treasures, many of which have never before been photographed. He resides in Santa Monica, California, with his wife Margaret.