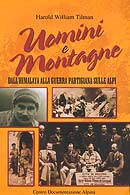 When men & mountains meet

H. W. Tilman has been called "arguably the best expedition writer and best explorer-mountaineer" of the 20th century.
In the first half of the book, Tilman offers an account of 3 Himalayan explorations: The Assam Himalaya in 1939, and 2 expeditions to the Zemu Gap in 1936 and 1938. The second half relates his experiences with the guerillas of Albania and North Italy.
Read book review of "The seven mountain travel books"
Ho letto la versione in lingua inglese, inclusa in "The seven mountain travel books". Mi ha intrigato la presenza di Tilman in Italia e avevo trovato garbata, ma pesante, il suo giudizio sulla nostra resistenza così "frastagliata".

Trama
L'autore è noto soprattutto per la prima ascensione del Nanda Devi (1936) e tre spedizioni all'Everest negli anni Trenta, ma la sua attività ha spaziato in tutti i continenti, guadagnandogli la fama del più grande alpinista-esploratore del ventesimo secolo. In "Uomini e montagne", l'autore racconta una spedizione nell'Himalaya dell'Assam e tre salite effettuate in tempo di guerra - in Iraq, Iran e Tunisia - per poi passare alle vicende belliche a cui partecipò in qualità di ufficiale dell'esercito britannico, prima in Albania e poi in Italia, sulle Alpi bellunesi, accanto ai partigiani della brigata Gramsci e delle divisioni Nannetti e Belluno.