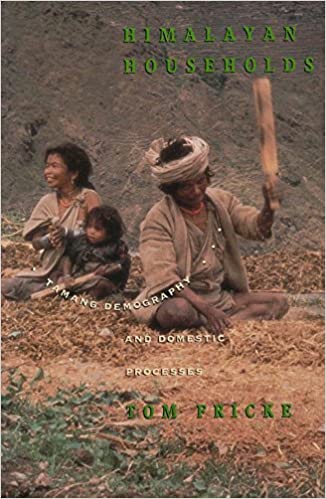 Himalayan Households

Il libro "Famiglie himalayane, demografia Tamang e Domestic Process scritto da Tomes E. Fricke riguarda lo studio approfondito e massiccio dell'adattamento alla montagna in un quadro antropologico per la ricerca sulla popolazione all'interno della prospettiva ecologica umana. Analizza la tendenza della demografia antropologica sulla base dell'adattamento montuoso e dei cambiamenti al loro interno sono tra le questioni centrali di preoccupazione in antropologia.
Questo lavoro di ricerca Ŕ stato condotto dal giugno 1981 al gennaio
1982, a Tipling (Timling), nella parte nord-orientale dell'Ankhu Khola del Nepal a un'altitudine di circa 6500 piedi. Questa ricerca Ŕ stata
realizzato tra la popolazione Tamang su 132 famiglie in tutto; 30 famiglie sono state prese come famiglia campione a caso.
The book "Himalayan Households, Tamang Demography and Domestic Process written by Tomes E. Fricke is about the depth and massive study of mountain adaption toward an anthropological framework for population research within the human ecological perspective. It analyzes the trend in anthropological demography on the basis of mountainous adaptation and changes within them are among the central issues of concern in anthropology.
This research work was conducted from June 1981 to January 1982, at Timling, north eastern most of the Ankhu Khola of Nepal at the elevation of about 6500 feet. This research was carried out among Tamang peoples where 132 households as a universe; 30 household was taken as a sample household by randomly. This book contains nine chapters with 26 figures, 34 tables, and 2 appendix, glossary as well as index.