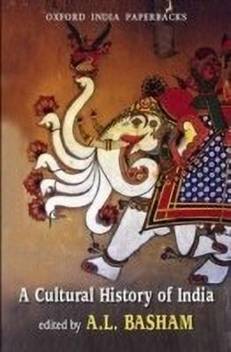 A cultural heritage of India

This book presents a comprehensive survey of Indian culture. It covers various aspects such as religion, philosophy, social organization, literature, art, architecture, music and science. 30 scholars from Britain, India, USA, Canada, Germany and other lands have contributed to this volume. Not every contributor adopts the same approach or the same point of view, but all have treated their themes in a manner which is scholarly and at the same time intelligible to the lay reader.

----------------------------
Table of Contents

List of Plates and Maps
Chronological Tables
Notes on the Pronunciation of Indian Words
List of Contributors

CHAPTER I
Introduction

PART ONE: THE ANCIENT HERITAGE

CHAPTER II
The Indus Civilization

CHAPTER III
The Early Aryans

CHAPTER IV
The Early Dravidians

CHAPTER V
Asokan India and the Gupta Age

CHAPTER VI
Medieval Hindu India

CHAPTER VII
Hinduism

CHAPTER VIII
Buddhism

CHAPTER IX
Jainism

CHAPTER X
Philosophy

CHAPTER XI
Social and Political Thought and Institution

CHAPTER XII
Science

CHAPTER XIII
Ancient and Modern Language

CHAPTER XIV
Classical Literature

CHAPTER XV
Early Art and Architecture

CHAPTER XVI
Music

PART TWO: THE AGE OF MUSLIM DOMINANCE

CHAPTER XVII
The Muslim Ruling Dynasties

CHAPTER XVIII
Medieval Hindu Devotionalism

CHAPTER XIX
Islam in Medieval India

CHAPTER XX
Sikhism

CHAPTER XXI
Medieval Indian Literature

CHAPTER XXII
Muslim Architecture in India

CHAPTER XXIII
Medieval Indian Miniature Painting

PART THREE: CHALLENGE AND RESPONSE--THE COMING OF THE WEST

CHAPTER XXIV
The Portuguese

CHAPTER XXV
The Mughals and the British

CHAPTER XXVI
Hindu Religious and Social Reform in British India

CHAPTER XXVII
Islamic Reform Movements

CHAPTER XXVIII
The Nationalist Movement

CHAPTER XXIX
Modern Literature

PART FOUR: INDIA AND THE WORLD OUTSIDE

CHAPTER XXX
Early Contacts between India and Europe

CHAPTER XXXI
Indian Influence in Ancient South-East Asia
Appendix

CHAPTER XXXII
Indian Influences on China

CHAPTER XXXIII
India and the Medieval Islamic World

CHAPTER XXXIV
India and the Modern West

CHAPTER XXXV
Conclusion

Books for Further Reading
Index



--------------------------------------------------------------------------------
About the Author

A L BASHAM (1914-86) held numerous positions at Universities in South Asia, North and South America, and Australia throughout his distinguished career. His major works include The Wonder That was India and A cultural History of India, which he edited.