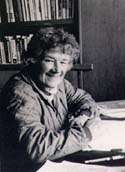 Dervla Murphy was born in Co. Waterford, Ireland, of Dublin parents and still lives there. Since 1964 she has been regularly publishing descriptions of her journeys – by bicycle or on foot – in the remoter areas of four continents. She has also written about the problems of Northern Ireland, the hazards of the nuclear power industry and race relations in Britain. The Times Literary Supplement called her 'an admirable woman - she has a romantic soul and a keen eye'.
Her published works include:
Full Tilt. Ireland to India with a Bicycle (John Murray 1965);
Tibetan Foothold (John Murray, 1966);
The Waiting Land: A Spell in Nepal (London, John Murray/New York, Trans Atlantic Arts, 1967);
In Ethiopia with a Mule (John Murray, 1968);
On a Shoestring to Coorg: an experience of Southern India (John Murray; 1976);
Where the Indus Is Young: A Winter in Baltistan (London, John Murray, 1977);
A Place Apart (John Murray, 1978);
Wheels Within Wheels (Autobiography, John Murray, 1979/Wheels Within Wheels:
Unraveling an Irish Past, New Haven, Ticknor & Fields, 1980);
Eight Feet in the Andes (John Murray, 1983);
Changing the Problem: Post-Forum Reflections (pamphlet, Dublin, The Lilliput Press, 1984); Muddling Through in Madagascar (John Murray, 1985);
Cameroon with Egbert (John Murray, 1989);
Transylvania and Beyond (John Murray/Woodstock, New York, Overlook Press, 1992);
The Ukimwi Road. From Kenya to Zimbabwe (John Murray, 1993);
South from the Limpopo: Travels Through South Africa (John Murray, 1997);
Visiting Rwanda (Dublin, The Lilliput Press, 1998); One Foot in Laos (John Murray, 1999);
Through the Embers of Chaos: Balkan Journeys (John Murray, 2003).
When she isn't travelling, she lives in Lismore.