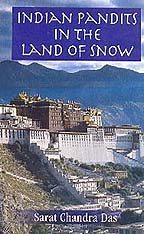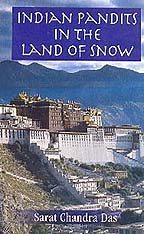 Indian Pandits in the Land of Snow

1893. This volume is a compilation of speeches and lectures delivered by Sri Sarat Chandra as to what he saw and learnt about the little known works of Indian Aryans in the countries beyond the Himalayas during his sojourn in Tibet.

It is an undoubted fact that Buddhism found its way into Central and Eastern Asia from India ages ago. But the efforts of the Indian Pandits in the propagation of Buddhism in the North and the Far East, have been, thus far, buried in oblivion.

Indian Pandits in the Land of Snow is based on the author's discoveries in Tibet, the land of snow beyond the Himalayas, during the course of his journeys more than a century ago. The book gives the reader the opportunity to discover the mystery of Tibet, her customs and her people, her monasteries and the unhurried pace with which life passed by hundreds of years before.

Most significantly, the book chronicles the role and importance of the Indian Pandits as connecting links in propagating Buddhism across the cultural and physical barriers which separated India and central Asia.
Table of Contents

1. Student Life in Tibet (Introduction)
2. The monastic University of Tashi Lhunpo
3. Comments on the above Lecture
4. Early Indian Pandits in China (Introduction)
5. Origin of the Mahayana School
6. Origin of Social Exclusiveness
7. Origin of the Bengalis
8. Periods of Missionary work by the Indo-Aryans
9. The Earliest Notices of China
10. Earliest Notices of India in China
11. Introduction of Buddhism into China
12. The Chinese and the Mahayana School
13. Translation f Buddhist sacred works into Chinese
14. Kumara Jiva and Fa-hian
15. Bodhi Dharma
16. Foreign Buddhist Embassies to China
17. Hieun-tshang
18. Brahmanical astronomy introduced into China
19. The Wu-mei Sect in China (as described by Edikins)
20. Bengal Pandtis in Tibet (Introduction)
21. Buddhism and the written language of Tibet
22. Bengal Pandits in the Buddhist Propaganda
23. Life of Dipankara Sri Jhana-Atisa
24. The King of Tibet-His anxiety to reform Buddhism
25. The King of Tivet Died in Captivity
26. Prince Chan Chub sends for Nag-tcho Lochava
27. The kings of Tibet commissions Nag-tcho to proceed to Magadha
28. Nag-tcho sets out for India
29. Nag-tcho arrives at Vikrama Sila
30. Religious assemble at Vikrama Sila
31. Aitsa Consults the Oracles about his going to Tibet
31. The Doctrine of Transmigration
32. The Lamaic Hierarchy of Tibet
33. The First Jataka

APPENDICES

1. The Lay of Lachen
2. An Account of Pranpooree
3. A Trip to Sikkim by Nobin Chandra Das (A fragment written in 1877)
4. Panchen Rinpoche Lozan Pandan Yeshe by Sarat Ch Das, in the Journal Siatic Society of Bengal.
5. The Emperor Kienlung's letter to the Dalai Lama
6. Note on Purnagir Gosain