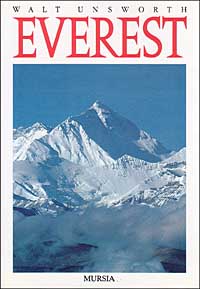 Everest

Pubblicato nel 1988 esce in Italia nel 1991. Osannato da molta stampa specialistica, forse perchüEl'unico nel suo genere, a me non piacque. In lingua inglese esce una riedizione aggiornata nel 1999.
This complete history tells the truth about many of those who have attempted to climb to the roof of the world.
After John Hunt's successful 1953 expedition he wrote in his diary that at least the Everest story was finished. In fact, in had scarcely begun. The first ascent was the end of a chapter but far from the end of the story. Since those days, well over 300 men and women have stood on the summit of the world's highest mountain, some of them several times, seeking new routes, faster times-or simply to be numbered among the elite who have stood on the roof of the world.
This complete history, updated through 1998, tells the truth about many of the world's mountaineering heroes, about the incompetence, the pettiness, and rages as well as the courage, skill, and altruism that have gone into attempts to climb the mountain. By giving the heroes a human dimension the author has succeeded in making their achievements even more impressive than before.