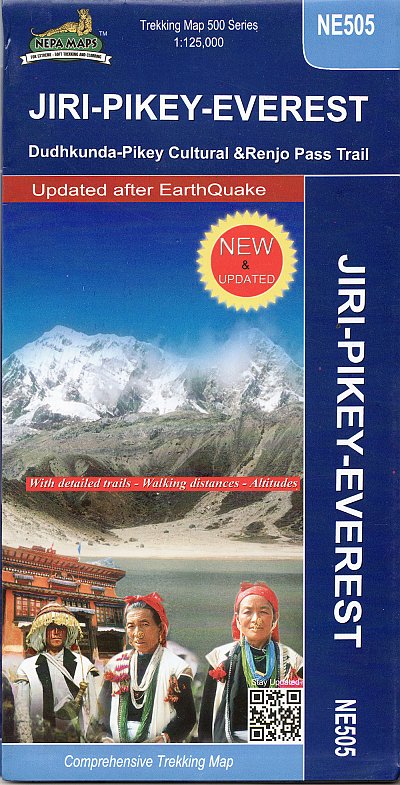 NE505 Jiri Pikey Everest

PHAPLU, PIKEY, JUNBESI, DUDHKUNDA, JIRI, RENJO LA, GOKYO, LUKLA.
In scala molto grande per essere veramente utile per i percorsi giornalieri, permette di avere una visone ampia e completa della regione. Ottima come ricordo da tenere nel cassetto.
The Khumbu, Solu and Rolwaling regions of Nepal presented at 1:125,000 by Nepa Maps with highlighting of numerous trekking routes. Of main interest in this title are routes in the Solu region south of the main Juri to the Everest BC trek, around the Pikey Peaks, Ringmu, Salleri, Patle, Bung, Deurali, etc, plus a trek from the route northwards to the Dudh Kund Glacier. Coverage extends from Jiri to the Tibetan border and east to Lhotse, Island Peak and the Mera Peaks, so the map also shows the better known routes in the Khumbu and Rolwaling regions covered by Nepa Maps in other titles. Contours are at 80m intervals, with bold relief shading and vegetation colouring. Index lists places, peaks, passes and lakes. Margin ticks show latitude and longitude at intervals of 5′. Additional information includes tables showing the main Everest routes, plus several other treks in stages with altitudes in metres and feet and trekking times.

Titles in this Nepa Maps series have cartography is based on the country's topographic survey, with contours usually at 40m or 50m intervals, enhanced by relief shading, colouring and graphics to show various features of the terrain, including glaciers, forested or cultivated areas, etc. Numerous peaks, with additional spot heights, plus names of glaciers and mountain ranges are prominently shown. The network of rivers, streams and lakes is shown in great detail, with many smaller rivers and lakes named. Overprint highlights main trekking routes and numerous local trails, with symbols indicating various places of interest and tourist facilities. Most maps are indexed and include additional information such as route profiles, glossaries, etc. All the information is in English and heights are given in metres.
To see other titles in this series please click in the series link.