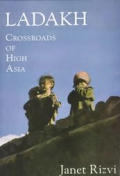 Ladakh

This highly readable volume offers the first authoritative account of the history, religions, culture, and social conditions of Ladakh, the land often celebrated as the last outpost of Tibetan civilization. Relatively isolated from the rest of India as well as from Tibet by the world's highest mountains, Ladakh stands at the crossroads where Islam and Buddhism met and blended to produce an entirely unique culture.
Writing with feeling and personal knowledge born out of years of study and years spent in the region, Janet Rizvi presents much more than a mere coffee-table pictorial guide. She explores the region's rich oral tradition, and its literature and artefacts, as well as its trade and economy.
The volume also includes appendices on the Jesuits in Western Tibet and additional information for visitors, a glossary, select bibliography, and index. Now available in paperback for the first time, Ladakh will provide tourists, travelers, scholars, and general readers with hours of enjoyment.
Rizvi, freelance writer and researcher, was brought up in Scotland and graduated PhD in history from Cambridge. She has spent many years of her adult life in Jammu and Kashmir as the wife of an officer of the state Government. Her book Ladakh, Crossroads of High Asia has been continuously in print for over 20 years; she is also the author of Trans-Himalayan Caravans, Merchant Princes and Peasant Traders of Ladakh. As well as the chapter 'Woven Textiles' in The Crafts of Jammu, Kashmir and Ladakh, she has contributed articles on the Kashmir shawl to The Encyclopedia of Clothing and Fashion (New York) and The Encyclopedia of India. She contributed the chapter 'The Asian Trade in Kashmir Shawls' to Textiles from India, The Global Trade.