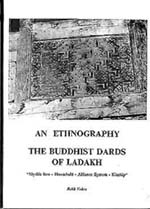 An ethnography: The Buddhist Dards of Ladakh

This volume gives a useful compilation of ethnographic observations on the Indo-Aryan speaking groups of the Dah and Hau Vaileys of the north-eastern Pakistan Karakoram. Vohra here is to be complemented on his assiduous descriptions of festivals, which in detail fully match those of Francke. The book makes the point that since these groups have been only marginaliy Islamicized or influenced by Buddhism and might be heid to represent a due to the past, they are of major anthropological interest.
Some might regard the bibliography as making omissions, but this is not such a critical matter for a volume perhaps primarily intended as an ethnographic and historical monograph. However, the linguistic gaps on common Tibetan terms should be corrected: for example, while we are told that 'brog-pa' is an occupational name used for some Dard as if it could help clarify the matter of ethnic identity, the fact that it is the common and widely-known Tibetan term for pastoral people is omitted; similariy the fact that 'go' is the Tibetan mgo does not seem to be noted.
The major conceptual problems of speculative reconstruction are well-known to the comparativist and sociologist, but the present work does not face the same squarely. Instead of criticai analysis, the ciosest of detailed materiai descriptions goes hand in hand with the most speculative of cultural and evoiutionary reconstructions and comp arisons. In practice, the work moves around cuitural material by connections at times variousiy genetic, historicai, contiguous and structural, amplified by references to l9th century literature; the theoreticai background appears to be some historical idea of ethnicity, but neither this nor the l9th century literature is treated critically. For example, while in one piace Vohra notes that one has to differentiate between the term "dard" as it is used in modem literature and the folklore on "the Daradas", the book does not follow this distinctìon.
In this volume the advances of twentieth century anthropological theory and ethnographic method (especially the more recent critical literature on ethnicity and its relation to state formation), are not fully taken advantage of. While the presentation here exacerbates thìs shortcoming, overail this is not so much the problem of Vohra alone as with this school of German Ethnology, in which not only the subject matter but also at times the very style of analysis are reminiscent of a bygone era. In a subsequent publication it is to be hoped that the analysis and presentation might be refined both for damity and to make the work of ...