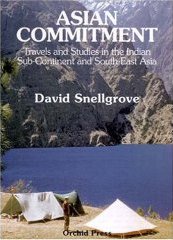 Asian Commitment

This book is the autobiographical account of the enthusiasms and disillusionments, of the disappointments and enjoyments of an entire, quite extraordinary lifetime. It is an epic story of scholarship and travel that spans the history, geography, religions and cultural connections of South and Southeast Asia. Until his early retirement in 1982, David Snellgrove was Professor of Tibetan Studies at The School of Oriental and African Studies, University of London. But his travels and his interests took him much further afield, and the work gives an account of his series of remarkable research expeditions from 1943 until today, taking him through India, Nepal and Bhutan, as well as more recent research travels in the western archipeligo of Indonesia, Malaysia and Thailand, before he quite recently made his second home in Cambodia.
For a period from 1969-72, the author was also a Buddhist consultant at the Vatican, and conviction of the importance of the religious dimension in all human society pervades the entire book. The Epilogue draws these various strands together, and evaluates the religions previously discussed - the various forms of Buddhism, Hinduism and Islam, as well as some indigenous cults and Christianity.

The book is richly illustrated, and its pages are permeated with evidence of the author's faculty for adaptability, combined with the gifts of energy, perception and enthusiasm.
Part One recounts his travels in the Indian sub-continent from 1943 to 1982, while Part Two, from 1987 to 1999 covers new ground. This follows the theme of Indian cultural influences upon the Malay-Indonesian archipelago and the Indo-China mainland.
Includes:
India and Ceylon during World War II (1943-46);
India, the Himalayas and Nepal: Second Journey 1953-54;
Nepal and Tibetan Frontier Regions (1956-1961);
Tibetan Affairs, India and Nepal (1960-1966);
Nepal, South India and Bhutan (1967-68);
Vatican Affairs (1969-1972)- where he acted as Consultant for Buddhism at the Vatican Secretariat for non-Christian Religions;
Ladakh and Zanskar (1973-1979);
Farewell to India (1979-1982);
Malay Archipelago and Funan (1987-1994);
Hindu-Buddhist States of Java, Sumatra and Bali;
the Khmers and Angkor;
the End of the Old Order.