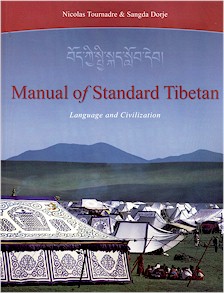 Manual of Standard Tibetan

The Manual of Standard Tibetan presents the everyday speech of Lhasa as it is currently used in Tibet as well as amongst the Tibetan diaspora. It aims not only to place the language in its natural context, but also to highlight along the way key aspects of Tibetan civilization and Vajrayana Buddhism.
The Manual, which consists of forty-one lessons, is illustrated with many drawings and photographs, and also includes two previously unpublished maps. Two CDs provide an essential oral complement to the Manual. A detailed introduction presents a linguistic overview of spoken and written Tibetan, and a lengthy appendix outlines the differences between literary and spoken Tibetan.
"The Manual of Standard Tibetan is the best resource available for teaching modern spoken Tibetan bar none. Its grammatical explanations are precise, detailed and clear, while its dialogues and surrounding text are rich with authentic cultural information on the social contexts in which Tibetan has meaning. It should quickly become the standard textbook in the area."--David Germano, The University of Virginia

"The Manual of Standard Tibetan, with its wealth of insights into the language, is a delight to read. In offering such a breadth and depth of coverage for an introductory text of modern Tibetan as used in Central Tibet and among the diaspora community, it brings the field to a new level, particularly in the area of spoken Tibetan."--Phil Stanley, Naropa University

"I do not hesitate to recommend Nicolas Tournadre and Sangda Dorje's excellent Manual of Standard Tibetan. Their collaboration represents the confluence of linguistic analysis of the first order with the stylistic sensibilities of a leading contemporary master of Tibetan composition. Both share a keen appreciation of an approach in which the learning of language and of culture must inform one another, with the result that this is one of those rare language textbooks that is a pleasure to read."--Matthew Kapstein, The University of Chicago