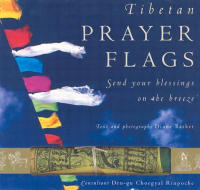 Tibetan Prayer Flags

Flying on Tibetan mountain passes, temple roofs and wherever Tibetans now make their homes, gaily colored prayer flags flutter in the winds. They have been used for centuries, scattering prayers, mantras, and auspicious messages out to the four corners of the world.In Tibetan Prayer Flags, Diane Barker describes the origin and significance this deeply spiritual and aesthetic expression of the wish for world harmony and presents an array of her own stunning color photographs of the flags in use. For example, there's a picture of the Yangtze River gorge, with prayer flags hanging over it. Hanging a flag over water benefits all that passes underneath. Flags hung outside the Dalai Lama's residence in Dharmasala include green, an astrologically auspicious color for his Holiness.The book comes with a box that also includes a string of fifteen hand-painted lung-ta--authentic Tibetan prayer flags. Specially designed with help from Dru-Gu Choegyal Rinpoche and manufactured in Nepal, the flags display rich imagery in five traditional colors and are ready to be hung in your home or garden. Now everyone can practice this ancient and sacred ritual, expressing support for the Tibetan people and spreading wishes of peace out into the world. "Contains a string of fifteen authentic Tibetan prayer flags ready for hanging. "Concise introduction to Tibetan history and Buddhist culture, and the use of prayer flags to promote peace, harmony and happiness.
Dru-gu Choegyal Rinpoche, artista, pittore, maestro di filosofia, lavora in India e Nepal, alternando la pittura allĺinsegnamento di buddismo tibetano. Dru-gu Choegyal Rinpoche, ottava reincarnazione di un lignaggio di maestri pittori nel Tibet orientale, ha ricostruito nel Kham (una regione a sud est del Tibet) il suo monastero, dove al momento attuale vivono e praticano monaci tibetani.
Le opere del maestro sono ispirate alle sue visioni attraverso la meditazione; anche se a noi risultano molto astratte, hanno una forza espressiva immediata.
Le carte nepalesi, su cui applica le tempere, sembrano scomparire sotto la magia della sua pittura.