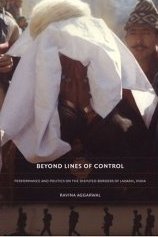 Beyond Lines Of Control

The Kashmir conflict, the ongoing border dispute between India and Pakistan, has sparked four wars and cost thousands of lives. In this innovative ethnography, Ravina Aggarwal moves beyond conventional understandings of the conflict—which tend to emphasize geopolitical security concerns and religious essentialisms—by considering how it is experienced by those living in the border zones along the Line of Control, the 435-mile boundary separating India from Pakistan. She focuses on Ladakh, the largest region in northern India's state of Jammu and Kashmir. Located high in the Himalayan and Korakoram ranges, Ladakh borders Pakistan to the west and Tibet to the east. Revealing how the shadow of war affects the lives of Buddhist and Muslim communities in Ladakh, Beyond the Lines of Control is an impassioned call for the inclusion of the region's cultural history and politics in discussions about the status of Kashmir.
Aggarwal brings the insights of performance studies and the growing field of the anthropology of international borders to bear on her extensive fieldwork in Ladakh. She examines how social and religious boundaries are created on the Ladakhi frontier, how they are influenced by directives of the nation-state, and how they are shaped into political struggles for regional control that are legitimized through discourses of religious purity, patriotism, and development. She demonstrates in lively detail the ways that these struggles are enacted in particular cultural performances such as national holidays, festivals, rites of passage ceremonies, films, and archery games. By placing cultural performances and political movements in Ladakh center stage, Aggarwal rewrites the standard plot of nation and border along the Line of Control.